History of
major trauma producing unstable fractures
moderate trauma producing stable fractures
Examination may reveal
swelling or bruising
blood at the urethral meatus
tenderness localised to specific areas, (most of the pelvis is palpable)
painful springing, - unequal leg length, - distended bladder.
Radiology may reveal
Unstable fracture
(ie. pelvic ring is disrupted in two or more places)
e.g.. fractured pelvic rami and diastasis of sacroiliac joint or fracture of all 4 pubic rami
Beware damage to underlying viscera
In case of bladder do not encourage to pass urine or catheter
Check distal neurovascular
IVI and X-match 6 units
Refer ortho and urology if appropriate
Stable injury
(ie. pelvic ring is disrupted in one area)
fracturesof 1 or 2 pubic rami or other fractures e.g. wing of ilium, acetabulum
Assess mobility
Bedrest and analgesia at home or in hospital according to pain, age and social circumstances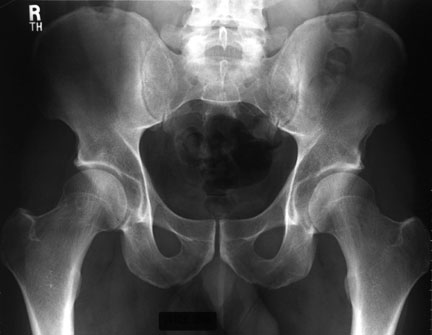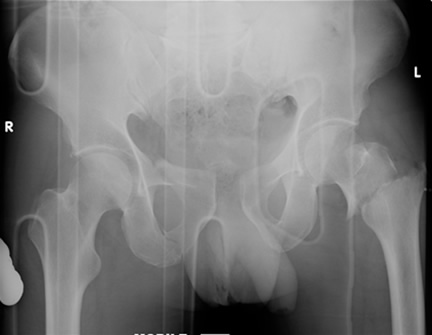 Immediate management
Get help from your emergency medicine senior
Check ABCs (assume other significant injuries until excluded) (particularly chest injuries)
Stabilise pelvis with sling or sheet (try to reduce haemorrrhage)
At least two large bore IV cannulae with confirmed crossmatch request
Trauma series
Treat as major trauma case with trauma team activation where available.