Aetiology
Infections
Neoplastic
Drugs
Procainamide, Hydralazine
Autoimmune
---
Diagnosis
Acute pericarditis is an inflammatory pericardial syndrome with or without pericardial effusion.
The clinical diagnosis can be made with two of the 4 criteria:
Pericarditic chest pain (pleuritic, eased by siting up) [90% of cases]
Pericardial rub [30%]
New widespread ST-elevation or PR depression [60%]
Pericardial effusion (new or worsening)[60%]
Inflam. markers may be raised.
CXR usually normal (unless effusion).
TnI may be raise if concomitant myocarditis.
ECG
Diffuse concave ST elevation (ST depression in V1)
Low voltage if effusion
Later flattening or inversion T globally
Return to normal(3/12)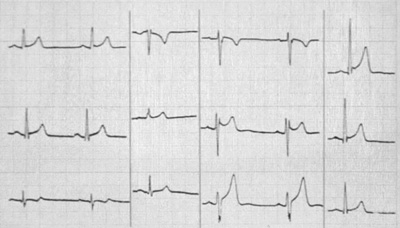 ---
Treatment
Aspirin (750-1000mg every 8hrs) plus PPI for 2 weeks
or
Ibuprofen (600mg every 8 hours) plus PPI for 2 weeks
plus
Colchicine 0.5mg once (<70kg) or 0.5mg bd (≥70kg) for up to 3 months
Refer cardiology if cardiac compromise or recurrent
---