Background
Patients with bleeding disorders such as Haemophilia, Von Willebrand disease, Rare bleeding disorders and Platelet function disorders are registered with a Comprehensive Care Centre (CCC) for the treatment of these conditions.
The CCCs are in St James's Hospital and Cork University Hospital for adults (>16 years old) and in Our Lady's Children's Hospital, Crumlin and Cork University Hospital for children (<16 years old).
There is a Consultant Haematologist and Specialist Registrar available for advice 24/7 in the CCCs - in an emergency, contact the hospital switchboard and ask for the Haematology doctor on call : SJH 01 4103000; CUH 021 4546400; OLCH 01 4096100.
All registered patients with bleeding disorders in Ireland should have a registration card which shows their diagnosis on the front and the contact details for their CCC on the back. If a patient attends an Emergency Department for any reason, they should be asked for their registration card.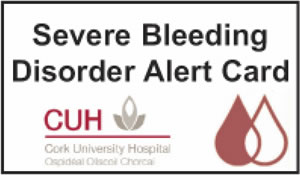 Adapted from Haemostasis Guidelines, National Centre for Hereditary Coagulation Disorders, St James' Hospital, Haemophilia Council Treatment Guidelines
---
In CUH, please Contact the haematology Registrar on call when the patient arrives.
If a patient presents to an emergency department in Cork with a similar card or a history of bleeding disorder, please contact the coagulation centre in CUH on (021)4920347 (via switchboard out of hours) and ask for the doctor on call for Haematology.
---
Treatment of bleeds
Identify site of bleed and assess clinically. All bleeds or suspected bleeds must be treated immediately prior to any other investigations
Check medical records and with patient for type of factor deficiency
Check for history of inhibitor
---
Calculate dose of factor required
Rise required = desired level of factor (%) - (minus) patient's baseline factor level (%)
FVIII ; k = 2
A 50kg patient with FVIII level of 10% needs a rise of 70%, therefore rise required = 70 -10 = 60%, FVIII dose required = (60 x 50) / 2 = 1,500iu rFVIII concentrate (Advate®)
FIX ; k = 0.8
A 50kg patient with FIX level of 25% needs a rise to 100%, therefore rise required = 100 - 25 = 75%, FIX dose required = (75 x 50) / 0.8 = 6,125iu ~ round to 6,000iu rFIX concentrate (Benefix®).
NOTE : 100% = 100 IU/dl = 1.0 IU/ml
---
Desired post treatment factor levels for the different types of bleeds in patients with FVIII or FIX deficiency

Bleeding Site
Target post treatment FVIII & FIX factor levels
Major bleed
1.0 IU/ml (100%) + commence CI*
CNS or bleed involving peripheral nerve
1.0 IU/ml (100%) + commence CI*
Ileopsoas / retroperitoneal
1.0 IU/ml (100%) + commence CI*
Tongue / neck / retropharyngeal
1.0 IU/ml (100%) + commence CI*
Gastrointestinal
1.0 IU/ml (100%) + commence CI*
Haemarthrosis
0.5 – 0.7 IU / ml (50% - 70%)
Minor bleed
0.5 IU / ml (50%)
Laceration requiring suturing / removal of sutures
0.4 IU / ml (40%)
Haematuria
High fluid intake ± rise to 0.3-0.5 IU/ml (30%-50%)
Minor surgery (angiogram, lumbar puncture)
1.0 IU/ml (100%) with further dosing if required
Liver biopsy or central venous catheter
1.0 IU (100%) + commence CI* x 3 days
Major surgery
1.0 IU (100%) + commence CI* consider treatment x 5-14 days (usually switch to bolus dosing by day 5-7)
*CI = continuous infusion only used in severe haemophilia as may increase risk of inhibitor formation in mild haemophilia (especially FVIII deficiency)
Recombinant activated factor VII: (Novoseven®)
Haemarthrosis / muscle bleeds - 90µg/kg (4.5KIU/kg) every 2 hrs for 3 doses
Major bleeds i.e. CNS and Illeopsaos bleeds - 90µg/kg (4.5KIU/kg) repeat 2 – 4hourly until bleed resolves
If patient with mild FVIII deficiency is known to be DDAVP responsive, consider DDAVP for certain bleeds
Factor may be obtained from the blood bank in the CUH on a named patient basis
Always round dose up or down to use the entire vial. Never discard factor
Do not give IM injections, non-steroidal anti-inflammatories or Aspirin
Tranexamic acid (TXA) - Cyclokapron - may be used for mucosal bleeds in conjunction with factor concentrate. TXA infusion guide
INHIBITORS:Discuss all management decisions with Consultant Haematologist on call
---
Von Willebrands Disease (vWD):
VWD= A quantitative &/or qualitative defect of von Willebrand factor.
Treatments: Tranexamic acid (TXA), DDAVP or Wilate (vWF concentrate). TXA infusion guide.