Background
The term Universal Precautions has now been replaced with Standard Precautions. Standard precautions are used in conjunction with Transmission Based Precautions. Transmission based precautions includes Contact, Airborne and Droplet
Contact precautions
Used for patients who are suspected or known to be infected or colonised with micro-organisms that can be transmitted by direct contact with the patient, his/her environmental surfaces or patient care items, examples include M.R.S.A, Clostridium difficile, Gastroenteritis and Scabies. For these patients the use of gloves and aprons are advised for delivery of direct patient care.
Droplet Precautions
Used for patients who are suspected or known to be infected with respiratory micro-organisms transmitted by large particle droplets. Large particle droplets can be generated by the patient coughing, sneezing, talking or undergoing procedures involving the respiratory tract. These droplets do not remain suspended and fall within a close distance of dispersal (approx. 1 metre from the patient) Examples include Neisseria Meningitidis, Rubella and Mumps.
Airborne Precautions
Used for patient who are suspected or known to be infected with a micro-organism that has the ability to be disseminated by airborne droplet nuclei. These have a small particle residue (5 um or smaller in size) thus can remain suspended for long periods. Examples include Mycobacterium tuberculosis (TB) Varicella, smallpox, rubeola (measles)
Glove Wearing and Hand-washing.
No glove gives 100% protection. Studies indicate that most gloves have a 37% perforation rate. Glove wearing must always be followed by thorough hand washing/decontamination with alcohol gel.
More on the Hand Washing page
---
ED infection control checklist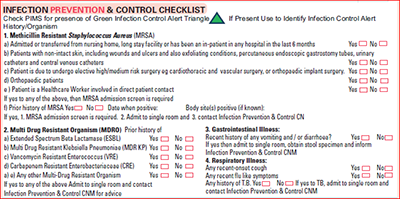 Screening for CPE / CRE at CUH
1. Routine Screening CUH : All GITU/CITU and 2D patients to have rectal screens for VRE/CRE on admission on admission and weekly thereafter.
2. Admission Screens : All patients transferred directly from any acute Hospital/Healthcare facility in Ireland, Any direct transfer from an International hospital- These patients should be isolated where possible and screened within 24 hours of admission- Rectal screen for VRE/CRE.
To access a patients infection control alerts:
Firstly select the patient (right click) from the iPMs screen
Left Click "Patient" from the drop down menu
Left click "Patient Alerts"
This will bring you to a screen detailing the patients actual infection control concern and the date the patient screened positive for this infection. Ensure appropriate infection control precautions are initiated and the bed management team are informed of the infection control status.
---
Intensive Care Unit MRSA Screening
All patients to have MRSA screen on admission.
Staff visiting ITU
Remember to use the correct door i.e. the door opposite the x-ray department
Remove white coat and put on protective clothing
Remember protective clothing to be changed at each bedside
Hand decontaminated with alcohol gel
Notifiable diseases
The Dept. of Public Health must be informed. Written documentation must also be complete. The forms are available in the ward areas
Diarrhoea
Any patient experiencing diarrhoea should:
Be isolated in a single room with contact precautions
Have a stool record/chart
Have a stool sample taken for C&S and clostridium difficile culture
Remember clostridium difficile toxin is a separate test and must be requested via microbiology extension 22504
---
MRSA
Patient "isolated" in a single room with contact precautions
White coats OFF and apron ON before entering room
7 Day of topical treatment (protocol)
3 screens post-protocol (Nose/perineum/axillae/wounds/"drips and drains" devices)
The patient is only deemed MRSA negative when they have had 3 consecutive negative MRSA screens post treatment
For X-Ray, theatre and Other Department Procedures, please ensure the department is informed of the MRSA status
---
Sharps Injury
Bleed the site
Wash the site under running water
Complete an incident form
Attend the Emergency Department (needlestick policy) with completed form
Intravenous drugs
Must be re-constituted on the IV tray and administered using aseptic technique
Gloves must be worn throughout the procedure
Disposable trays must be used to carry the equipment
Sharps must NOT be carried by hand
Infection control manual
Available in all wards/areas. This "yellow" manual is a referenced book. These guidelines are based on Department of Health, national and international recommendations.
---
CPE control measures
Patients with a known CPE positive status or suspected CPE Positive MUST be isolated in a single room with an ensuite facility as a priority this includes admissions through ED and AMAU
Failure to isolate in a timely manner may lead to other patients acquiring a CPE CONTACT status
The HPSC guidelines 'recommend that CPE positive or Suspected CPE positive patients are cared for by nursing staff and HCA's who are not engaged with the care of Non-CPE cases for the duration of their shift.'
Contact precautions are required when caring for a patient who is known to be or suspected to be CPE positive
Compliance with Hand Hygiene policy and effective practice is essential to prevent transmission
PPE should include long sleeve gowns, disposable gloves for all patient contact. Should the organism be present in the sputum then a FFP3 Filtration Mask and eye/face protection may also be required. PPE must be disposed of after each use
Isolation room doors must be kept closed
Additional environmental cleaning is required using a disinfectant and cleaning agent such as Actichlor plus. The tablets should be diluted to a concentration of 1000ppm and instructions for use complied with. Housekeeping should be notified
Rooms occupied by a CPE positive/suspected CPE positive patient should be cleaned at least twice daily with focus on high touch areas such as door handles, light switches etc
CPE Positive/suspected CPE positive requiring treatment/investigation/surgery -these departments should be informed prior in order to facilitate the appropriate management and precautions
Medical equipment and patient care equipment should be designated where possible. Single patient use items should considered if available. Items which cannot be effectively cleaned will need to be disposed of. High Level detergent/disinfectant wipes or actichlor Plus solution 1000ppm should be used for cleaning/decontamination of equipment
---