---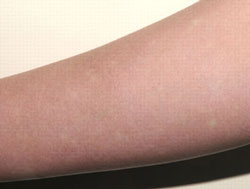 Clinical
Incubation period 3-14 days (usually 4-7)
Abrupt onset fever, chills, headache, arthralgia
Back pain ("breakbone fever") and prostration ( exhaustion)
Rash in 50% - faint macular, erythematous with discrete pale spared areas

Capillary test

confirms capillary fragility
Lasts up to 10 day
May progress to haemorrhagic fever (beware petechial rash fragile gums) and shock (may be fatal)
No vaccine available
Prevention - avoid mosquito bites (advice)
Severe 'flu like viral infection, all age groups
Transmitted by Aedes mosquito bite
Bites risk : daytime, tropics & subtropics
Recently Comoro Islands.
Capillary test
Specificity >85%, sensitivity 30%
Apply BP cuff above venous pressure for 5 minutes. Positive = >2 petechiae distal to the cuff.
Labs
Leucopenia with a relative lymphocytosis
Thrombocytopenia
Abnormal LFTs
Clotting abnormalities if haemorrhagic / shock developing
Confirm Dx with IgM antibodies against flavivirus
Differential Dx
Malaria - ALL need malaria screens
Rickettsial infections
Enteric fever
Acute HIV seroconversion
---
Advice for travellers
Time: Precautions during daylight
Avoid risky areas: i.e. near water
Use mosquito repellents:
Dress safely: wear long sleeves, long trousers, socks and closed shoes.
Use air conditioning and screens
---