Background
Classified on serum level
Mild = 5.5 - 6.0mmol/l
Moderate 6.1 - 6.9mmol/l
Severe >7 mmol/l
Can cause cardiac standstill and VF
Causes
Acute renal failure
K+ sparing diuretics
ACE inhibitors
Hyperglycaemia
Rhabdomyolysis
Adrenal insufficiency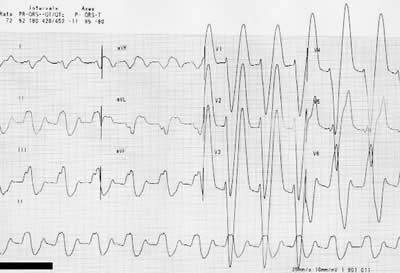 ---
Management
Calcium gluconate
10 - 20 ml of 10% Ca++ gluconate over 10 minutes
Indicated when ECG changes present
Antagonises cardiac excitability
Does not affect plasma potassium level
Duration of protection - minutes. Repeat as necessary.
Slower (over 30 min) infusion in patients on digoxin.
Insulin with glucose
Stimulates Na+ - K+ ATP pump and so intracellular uptake of K+.
Dose = 10iu insulin in 50ml of 50% dextrose given as bolus.
In children a glucose load of 0.5 g/kg/hr (2.5ml/kg/hr) should be given. If blood glucose rises above 10 mmol/l then insulin should be added at 0.05u/kg/hr.
Onset of action 15 min, lasts about 1 hour.
Salbutamol
Binds B2, stimulates CAMP, which stimulates Na+-K+ ATP pump
Give 0.5mg (4 µg/kg in children) slow IV
or
10mg nebulised Salbutamol (in children 2.5 mg if < 25kg, 5 mg if > 25 kg)
Avoid IV administration in patients with ischaemic heart disease
Sodium bicarbonate
No effect on plasma level for at least 60 min
No studies to demonstrate clear benefit
May be considered in severe acidosis
Sodium polystyrene sulphonate
Resin binds K+ in the intestine
50 grams polystyrene in 100-200ml 30% sorbitol or 10% glucose
Given PR and left for at least 60 min
Haemodialysis
Definitive hypokalaemic measure
Rapid fall in plasma level in first hour
Especially where hyperkalaemic arrest or other medications have failed.
---