Fasting times for Children undergoing General Anaesthetic in CUH
Clear Fluid: 1 hour
Breast Milk: 4 hours
Solid food, including milk: 6 hours
Encourage drinking of clear, non-fizzy sugar containing solutions (for example, apple juice, orange/ lemon juice/squash without particles, fruit shoot, non-fizzy sports drink, dioralyte, all non-thickened) until 1hour before theatre unless directed otherwise by the anaesthetist in charge of the case
Approximately 3mls/kg/hour is acceptable up to a maximum of 200mls
Times may vary according to individual anaesthetic practice and patient specific conditions
If there is any concern or queries please discuss with the Consultant Anaesthetist in charge of the list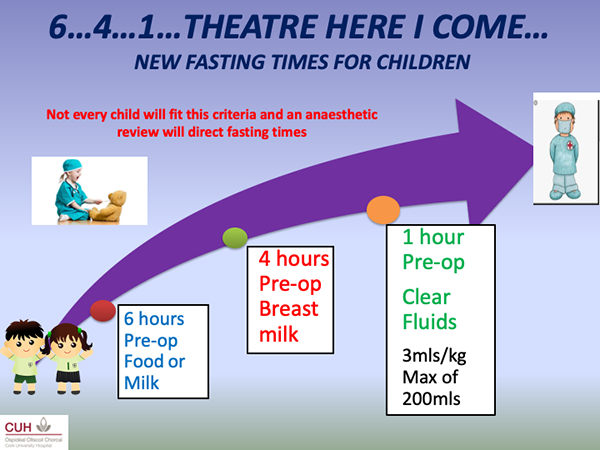 ---
Links /References
Perioperative fasting in children. BJA Education, Volume 17, Issue 10, 1 October 2017, Pages 346-350.
Consensus statement on clear fluids fasting for elective pediatric general anaesthesia Paediatric Anaesthesia, Volume 28, Issue 5.
Low incidence of pulmonary aspiration in children allowed intake of clear fluids until called to the operating theatre Andersson H, et al, Paediatric Anaesthesia, 2015 August, 1;25(8):770-7.
Preoperative Fasting Prior To General Anaesthesia OLCHC 2018.