Background
Hydrofluoric acid (HF) is found in industrial cleaning agent for metals / glass or in household rust removing agents.
HF is an extremely caustic inorganic acid.
Pathophysiology
Fluoride ion penetrates skin and permeates deep tissues (incl. bone).
Fluoride binds calcium forming insoluble salts.
↓↓Ca++ in local tissues → cell necrosis.
Local tissue death → local K+release irritating nerve endings = pain ++.
---
Clinical
HF burns may present early (severe pain, HF conc. usually >20%) or late.
Typically, very intense (± delayed) pain.
Systemic toxicity due to ↓Ca++, ↓Mg++, ↑K+ → arrhythmia.
---
Management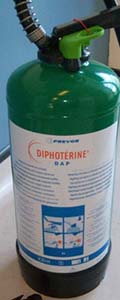 Manage systemic toxicity.
Local pain control.
Prevention of progressive tissue damage.
Systemic toxicity
Local toxicity / burn
Wash (repeatedly) with Diphoterine (cylinder in decontamination room in CUH ED).
Topical calcium gluconate.
Local Ca++ gluconate infiltration.
"Biers block"

10-20 ml Ca++ gluconate diluted to 40ml.
Leave cuff inflated for 15 minutes.
Early release of cuff may cause flushing, headache, and
arrhythmia.

Intra-arterial Ca++ gluconate.