Background
The clinical notes are the pivot around which all medical and nursing interventions occur. Written contemporaneously, logically and legibly, they are the instructions that concern all involved in the patient's management in the hospital setting now and a legacy of data and information revealing what happened to the patient for posterity. The average SHO attends to 2,500 patients during his/her 6-month tenure in an Emergency Department.
A system of annotation that is endlessly repeated ensures good habit formation with less opportunity for forgetfulness or poor documentation (especially after the first hundred or so patients!).
Remember, there are few situations in life where a picture so usefully replaces many words. And, finally, patients frequently and rightly obtain access to their clinical notes. Their impression of you(and that of their lawyers) is profoundly influenced by your notes.
---
What to do
Significant Trauma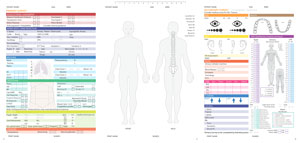 Ensure there is a patient ticker on all notes you write.
Printed surname of clinician, Time (24 hr clock), Date.
Note the presence of a companion/guardian
PC (Presenting Complaint): the time of injury/illness onset, what date and how, e.g. "tripped over loose paving stone"; where specified, e.g. "on Washington Street"; mechanism of injury, e.g. "fell on out-stretched hand and strained the right knee"; list, numerically, all the injured sites; specify whether a head injury or loss of consciousness (HI/LOC) has been sustained. Mention the reason for any delays and how the patient arrived in hospital.
HPC (History of Presenting Complaint): note whether there has been a relevant problem before, e.g. "sustained fractured wrist 3 weeks ago; now complaining of (c/o) problem with the plaster (POP)".
MH (Medical History): ask the following leading questions - "have you ever been in hospital before?; have you ever had any operations?; have you ever had a serious illness?; are you attending an out-patient clinic or your GP presently?; have you ever been to an Emergency Department before?"
Right/left hand dominant: "Are you left or right handed?".
Allergies: "Have you ever had an allergic reaction to anything?"
ADR: "Have you ever had a bad reaction to any drugs?"
SPISA: "Have you ever had a Serious Previous Injury/Illness in the Same Area?"
SE (System Enquiry): "Do you normally enjoy good health?; have you had any problems recently with your asthma/blood pressure/angina/rheumatism?" (etc).
ATT (Anti-Tetanus Toxoid): "When was your last Tetanus injection?; do you ever remember having such an injection?"
Rx (Medication or Treatment): "Do you normally take any medication from your own doctor or from the chemist or do you take the Pill?"; "do you take any medicines regularly - pills, patches, inhalers, lotions or creams?"
SHx (Social History): "What's your occupation?"; "Who is at home with you?".
---
Learn to be meticulous in your note-keeping!
---
Examination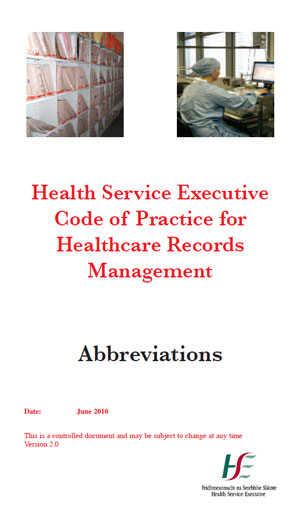 OE (On Examination): Describe the patient's demeanour and critical clinical appearance (whether lucid, distressed, pale and sweating, cyanosed etc) e.g. "lucid, distress = 5/10"
Identify objective assessments and record the vital signs
GCS (Glasgow Coma Score): e.g. "GCS 6(E1V2M1)" in the head injured.
ECS (Edinburgh Coma Score): e.g. "ECS 1" in the poisoned patient.
RR (Respiratory Rate): e.g. "RR 28, laboured" in the victim of thoracic trauma.
BP (Blood Pressure): e.g. "BP 190/95 right arm; 130/90 left arm" in chest pain.
P (Pulse): e.g. "P 120 A. Fib.".
rT (Rectal Temperature): e.g. "rT32.5c, hypothermic" in the unconscious.
SPO2 (Capillary Oxygen Saturation): e.g. "98% on room air" in pneumothorax case.
BM (Boehringer Mannheim capillary glucose): e.g. "BM 2 (hypoglycaemic)".
CNS (Central Nervous System or Cranial Nerves): e.g. "CNS intact".
PERLA (Pupils equal and reactive to light and accommodation): e.g. in coma case.
Then work down meticulously from the head to the extremities
H&N (Head and Neck): Ideally draw the head and illustrate areas of injury with reasonably precise location and dimensions.
CHEST: Utilise conventional medical diagrams and mention relative positives and negatives, e.g. "lungs clear, normal vesicular breath sounds, normal heart sounds, nil added, no crepitus, etc".
ABDOMEN: Utilise conventional medical diagrams, mention organomegaly, masses, peritonism, bowel sounds, external deformity/swelling/discolouration - patterning, genitalia, rectal and vaginal examination, etc.
PELVIS: Mention separately in trauma patients, particularly bleeding.
LIMBS: Specify whether upper or lower, right or left. Mention relevant negatives/ co-incidental findings, e.g. "no neurovascular or tendon deficit (no NVTD); no clubbing; palmer erythema; tattooing, injection track-marks, old self-inflicted wounds, etc". Use diagrams as a matter of routine.
Neurology: Specifically mention positive or negative findings: i.e. tone, power, reflexes, sensation, co-ordination or stipulate "no focal neuropathology".
Plantars: Specifically mention the (Babinski) plantar responses, left and right.
---
P (Plan or Procedure):
Indicate clearly, in order, list what you intend to do/want done and tick them when they are done, e.g. surgical toilet, sutures (how many), POP (what kind/which limb), medication (specify dose and for how long), brace (e.g. Futura wrist splint) stick/crutches, DTG (double tubigrip), BAS (broad arm sling), C&C (collar and cuff) and investigations (e.g. WTU / FBC / Plasma Chemistry / BM / ABGs /Amylase / CXR / ECG etc).
Then sign your name clearly. Record the time you finished. It is imperative that you note the time injured, the time seen by you and the time referred to a colleague. Noting these times has major forensic importance, for the patient and you. Do it and avoid grief!
---
The system described here will save you time, sleep and a considerable amount of writing later once it has become a "brain-stem function.