Setting Up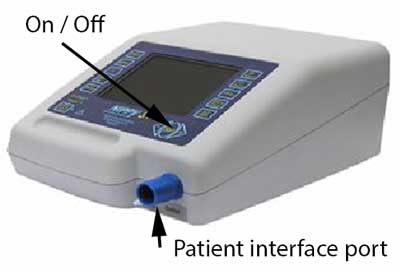 Equipment Required
Bacterial Filter
Circuit tubing( BiPAP disposable circuit)
Exhalation Port
Face Mask
Circuit Set-up
Connect Bacterial filter to the patient interface port
Connect Circuit tubing to the Bacterial filter with exhalation port at the patient end
Attach face mask to exhalation port
Machine Set-up (Refer to Providers Manual)
Switch On
Place the NIPPY 3 on a clean, smooth, hard surface
Connect the power lead to the mains power connector on the rear panel. Plug into the mains power supply
Press the Start/Stop button
To Switch Off
Press the Start/Stop button. The "Switch Ventilator Off" message will appear on screen. Press the Start/Stop button again after 2 seconds. There must be a delay of 2 seconds before each push, to prevent accidental operation
The Main Screen
The Main Screen is divided into 3 areas:
The left-hand side shows the basic ventilator settings, IPAP, EPAP, Ti (Timed Inspiration), BACK-UP and Mode, adjacent to its setting button
The centre section shows the airway pressure, estimated tidal volume and breath rate
The right-hand side shows the Total hours, hours used and symbols for alarm mute and locked settings
How to adjust the NIPPY 3
Select the desired parameter with the relevant button
The reading adjacent to the button will be highlighted by a purple flashing box
Alter it with the - or + buttons
When you have finished, move on to the next adjustment or wait a couple of seconds for the flashing box to disappear
E.g. Press IPAP: IPAP setting will be surrounded by a purple flashing box. Press ± to increase/decrease the pressure setting.
Setting up the Nippy 3 ST in Pressure support mode
Place the NIPPY 3 on a clean, level surface
Press the Start/Stop button and select Pressure Support mode
Set IPAP to around 8cm H2O as discussed with the physiotherapist and/or medical team. CAUTION: Avoid starting off with the pressure too high. Start with a low pressure to avoid distressing the patient
Set desired EPAP as decided by EM team /physiotherapist
Ensure that the back-up rate is set to a lower value than that observed when assessing the patient
The patient may now hold the mask to the face
Allow the patient to get used to the mask. Then gradually increase the IPAP setting until the patient feels comfortable and is being ventilated efficiently. 10 to 20cm H2O will suit most patients
Make sure that no air is leaking from the mask into the patients eyes. If it is, adjust the mask and headgear until air stops leaking into the patients' eyes. See the instructions supplied with the mask
NOTE: A small amount of mask leak is normal and acceptable. Large mask leaks or eye irritation from an air leak should be corrected as soon as possible.
Lockout Deactivation. If the keypad is locked out, to deactivate, press and hold the up and down arrows at the same time for 5 seconds.
---